USA
32. Dani Busboom Kelly:"All of my players need to have a great experience, I take that very personal"
In today's Masterclass we feature Dani Busboom Kelly. Dani is the Louisville Cardinals head coach and was awarded the AVCA Coach of the Year award last December. Louisville finished their 2021 regular season with 'zero' defeats and went on to play the National Championship semi final.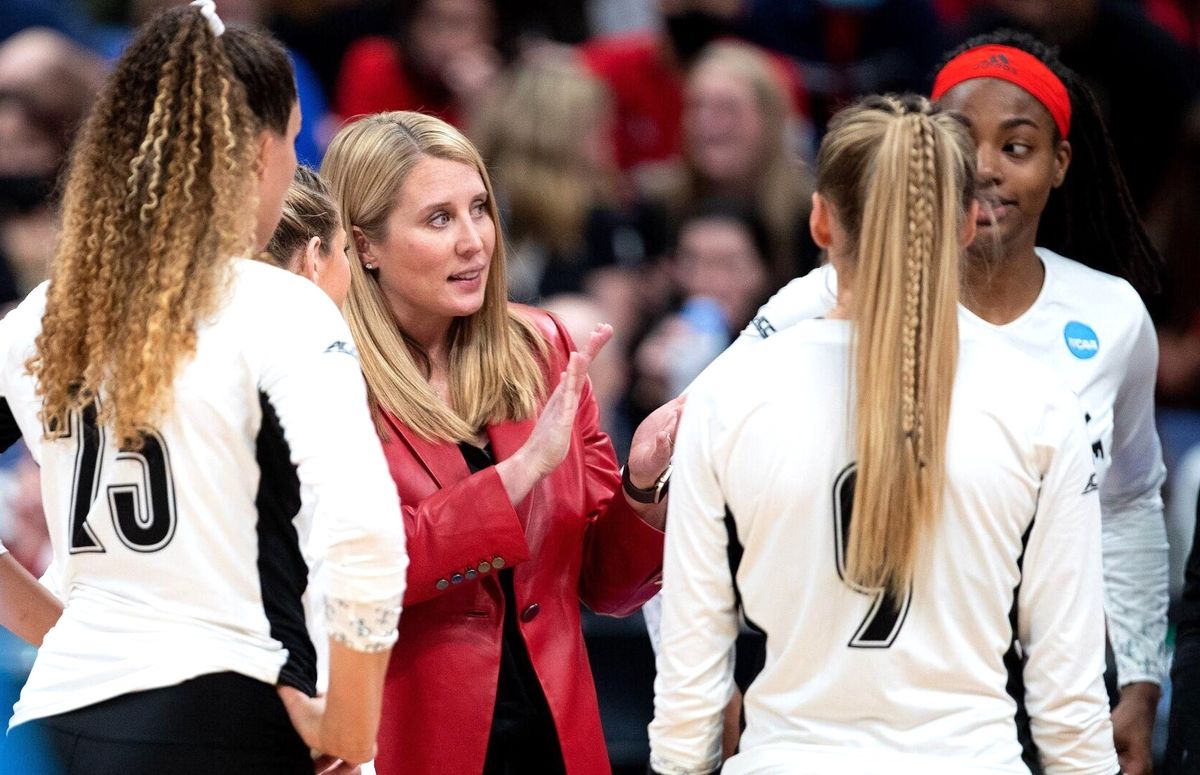 To find a team that played an undefeated regular season we have to go back til 2013!
Louisville finished their run against Wisconsin in an epic Final Four game. (Wisconsin went on to become the National Champion).
Which means Louisville remained undefeated for 32 games straight!
In this Masterclass Dani talks about: her own experiences as a player and how these made her a better coach, her goals and objectives with the Louisville program, how she trains her setters, which failures she has built upon, what she wants her players to become both as an athlete and a human and so, so much more...
This article features 17 video clips and counts over 5000 words. Enjoy!
Enter Dani.
Dani, what made you want to become a volleyball coach?
When I was at Nebraska as a player, I switched positions my senior year. So I was a setter for 3 years, and became a libero in my senior year.
And I think that switch really shifted my mindset. I felt that I had a lot to give back to the game of volleyball. And also John Cook, who was my coach at Nebraska. He was like, you should be a coach.
And we never really talked about it before. But when he said that, I was like, maybe I'll do it.
I knew that if I didn't try to get into the volleyball game that I would regret it.
And so I got a job at Tennessee, it was my first assistant coaching job. And I've been in coaching ever since.
But it's funny. I knew I would regret it if I didn't get in it, but I also knew in the back of my head, once I got in it, I would never leave.
It's been a good journey and I obviously had many great stops before coming to Louisville as a head coach.
What advice would you give yourself as a starting coach? An advice that is so clear and logic for you now, but that you had to develop over the years.
I think when you start out as a coach, especially when you've been a player, it's tough to find your voice.
And typically at your first job, you're going to be around veterans who have been coaching for years and that have a lot of experience. I would tell myself that I should speak up more and have more of a voice.
And you know, to say what I'm feeling or seeing more and not being worried that it might not be perceived well.
I also always tell everybody that one of my biggest regrets is when I was at Tennessee, I never sat down and had a conversation with Pat Summitt. Who's, you know, one of the greatest women's coaches in the history of any sport, one of the greatest coaches, period.
And most coaches, like that, they want to help and they want to help other coaches grow.
I also definitely recommend to take advantage of those opportunities with the people that are around you in your athletic department.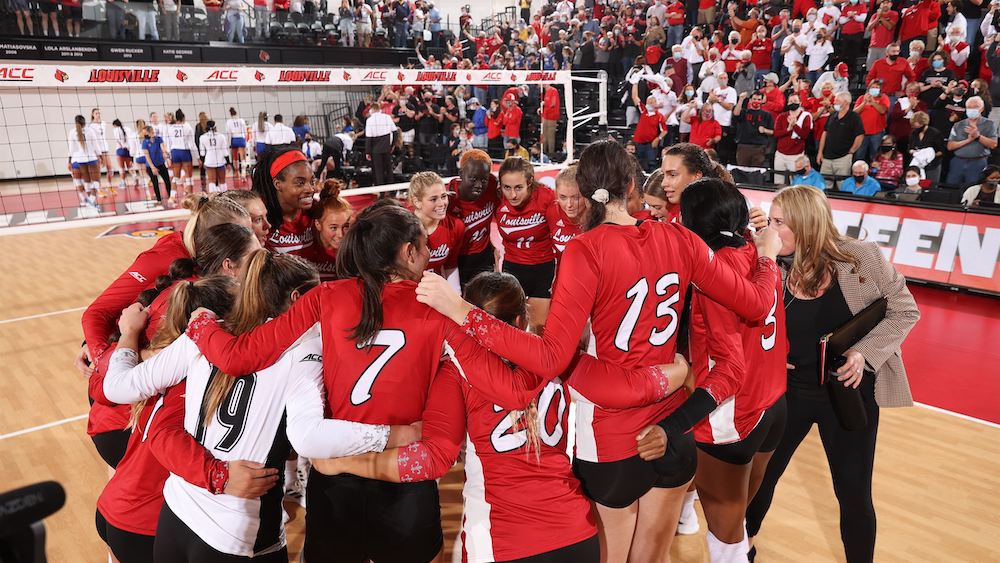 And, you know, when I left Tennessee, that was one of the first things I thought. I was like, man, I never had a conversation with Pat Summitt.
I know she would have been open to doing it and it's definitely one of my biggest regrets, but I've also learned from that and do a much better job now.
And hopefully people I've told that to do the same.
What are bad recommendations you hear about coaching or training volleyball?
That is a tough question.
I would say a bad recommendation I hear is just 'specialization' in general.
We have a player coming in who has to set for her club team. I think that's great. Even though she's probably not going to be a setter here, it's just going to help her overall volleyball IQ.
So I don't think you should specialize in a position at a very young age at all. If for a long period, if you're capable of playing multiple positions, try to do that.
I also think that at the junior level we could teach some more volleyball IQ stuff. That would really help when players transition into the college game.
Rotations, for example, don't let players get comfortable, understand why some teams have difficulty to get out of certain rotations and why we mix it up and why we can do different things in each rotation.
I don't know if that's like a recommendation, but it's something that I think could be improved on.
Do you have a particular goal? Maybe a goal that you already reached or a goal that is so hard to reach that it gives you daily motivation?
Right now I think I have a lot of different goals with different reasons or different 'why's'.
To continue to grow the program here is definitely one of them. I think a fear of mine would be that last year was just a flash in the pan, or we just had one good year.
I never want our program to be viewed that way.
I want us to be continually in the top 20 and always pushing sweet 16's and elite 8's and in the hunt for the ACC championship. I know we're not going to achieve those goals every single year, but as long as we're in a position that we 'can' achieve them, I think that's really important.
So continuing to grow there and now the next step is to win a national championship.
We've made the final four and that wasn't even on my goals board when I took the job at Louisville, but now it has to go on. So that's pretty exciting.
But also in the community of Louisville, just growing the game and making sure fans are continuing to come and that it's a big deal to be a part of Louisville volleyball in whatever way that is, whether it's a player or a coach or a fan.
We've laid down a great foundation that goes along with, you've gotta be consistent, you got to win and get those fans here.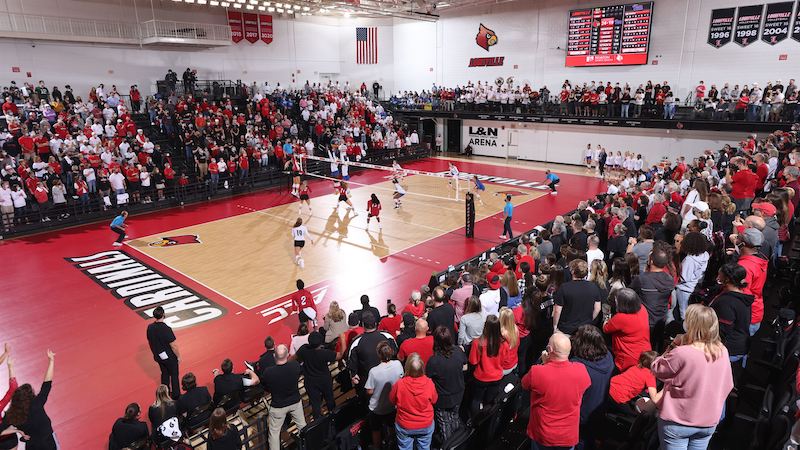 I always want our players to have a great experience and when they don't, I take that really personally. This year we had 6 seniors and I think they all could say we had a great experience over those last 4 years.
And so the goal is that we continue that and make sure that whether they're starters or All Americans or they never play, that they have a great experience and that Louisville volleyball made them a better person and player.
So those are pretty big goals. And for sure the ones that take work on a daily basis.
Continuing on laying down that foundation, broadening that base that was created is definitely the way to go. Aren't you guys also organising the final four tournament in 2024?  
Exactly. That would be incredible because last time it was here, it was in 2012 maybe...with 17.000 spectators and Louisville wasn't even in the hunt to be in the final four.
So just imagine if we're there with the buzz of the city, it would be incredible.
And you know, I got to experience that at Nebraska as a player and a coach when Omaha hosted the final four.
But this is even on another level because it's 'in' our home facility. We don't play all our matches there, but we'll play some. So it'd be a pretty big deal.
The Yum center is big, it can hold 22,000 people. It's massive. So you would really lose the intimacy of volleyball if we would play all our matches there. When you're far away, you don't really see how hard everybody's hitting the ball and how fast they're moving.
But we want to play some games in there to grow the game.
There's a lot of people that want to see us play. Last year we sold out pretty much all of our games at home and it got really rowdy and hard to get a ticket.
So I also want to make sure we're giving the opportunity for everybody who wants to, to see us play at least a couple of times a year, but it's going to be hard to get a ticket in our arena next year, that's for sure.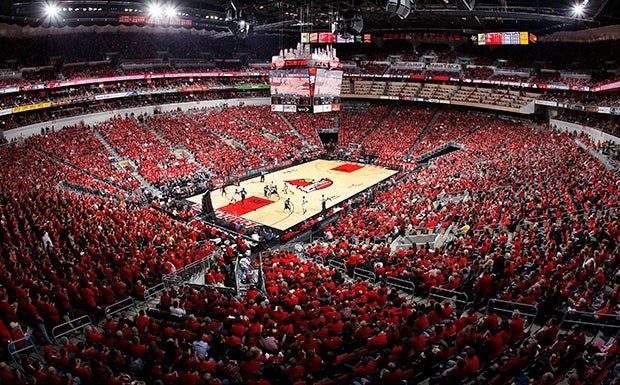 Team rules. Are there some fixed rules that you put in place?
We don't have a lot of rules here.
But it evolves and can change. Teams are going to change so you might have to develop more specific rules.
But our rules that we do have fixed are 'be on time' and 'person to person'. So if you want to talk to somebody we're going to do it face to face.
I think that's really hard nowadays because texting is so easy, but we don't ever want to go there.
And then follow the golden rule, treat others how you want to be treated. Do we know the bus driver's name? Are we saying, thank you. That's what 'follow the golden rule' looks like to me, that's just one example.
So those are really our 3 rules in and out every single year. And then we might do some changes or the team will come up with some of their own, but those are not year to year.
How do you go about developing a performance culture and being transparent and open about the individual and team's objectives.
One thing that we do, that's really unique and difficult, but has really paid off is, we have role meetings, but we do them in front of the team.
So we talk about every individual in front of everybody else.
I think that really helps build trust because we're really transparent. And then it allows them to hold each other accountable so they can hear us, what we say you need to do, whether it would be more playing time or what you're doing well.
So it's also an opportunity to call out the things we want to see repeated in front of the whole team and to make sure that our players know that that's valued.
But also a way for them to hear about their play in front of their peers. And it's sometimes probably the most awkward for me because I'm the one leading the meeting.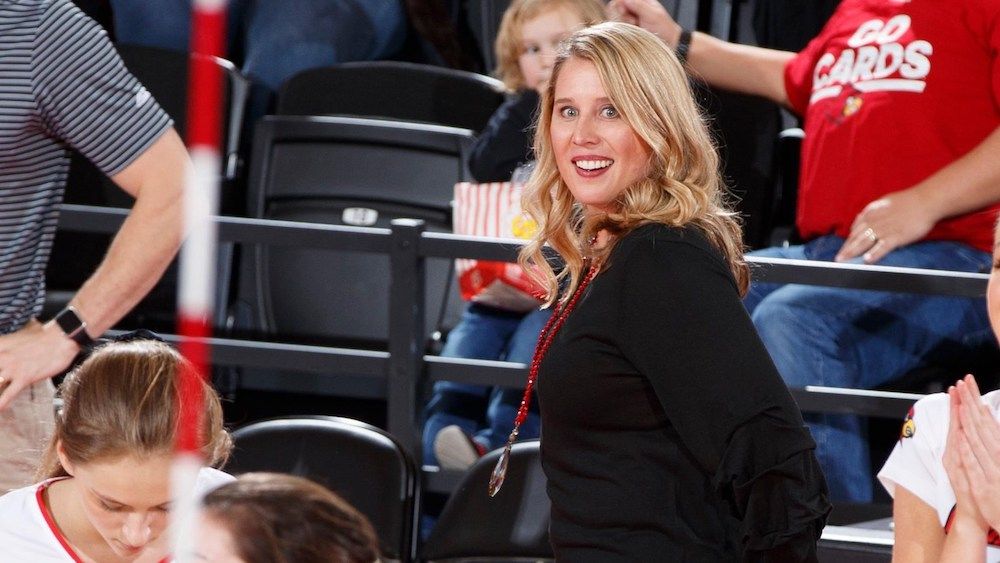 And saying 'negative' stuff about a player in front of everybody is kind of hard, but I think it's really been great for our program and something we're going to continue to do.
And that doesn't mean we never talk behind closed doors because that's unrealistic. We have to sometimes, but mostly we don't, I just don't want anybody to think we're hiding something or trying to keep info, I don't want somebody coming out of our offices going down to the locker room saying or thinking something, that isn't true.
That's why we try to do everything together as a group.
When preparing the next game, how does your general approach look like and did you ever change your approach?
We've been pretty consistent. We've definitely condensed our scouting reports and made them simpler.
We've gotten feedback from our players about what they like.
For example there was this simple thing you don't think about that we changed. So when we're out recruiting, we know all these players by name and so we were using their names during our scouting sessions and our players didn't like that. Especially the young ones. They wanted us to use numbers.
That's difficult for me because I just know the face and the name, but it wasn't helping them learn.
And I think it also puts opponents on a pedestal, well, we know their name, because we recruited them and we know what they can do, instead of just, everybody's an equal or they're just a number to us.
So that's one thing.
And then we try to keep it really short. I don't agree with long scouting sessions. I think it's our job to help the players in the match remember the scout and to keep coaching them and not be like, look, we talked about that in the locker room.
They're not going to remember in the heat of the moment and anybody that's played knows that. They'll remember some, but they're not gonna remember everything.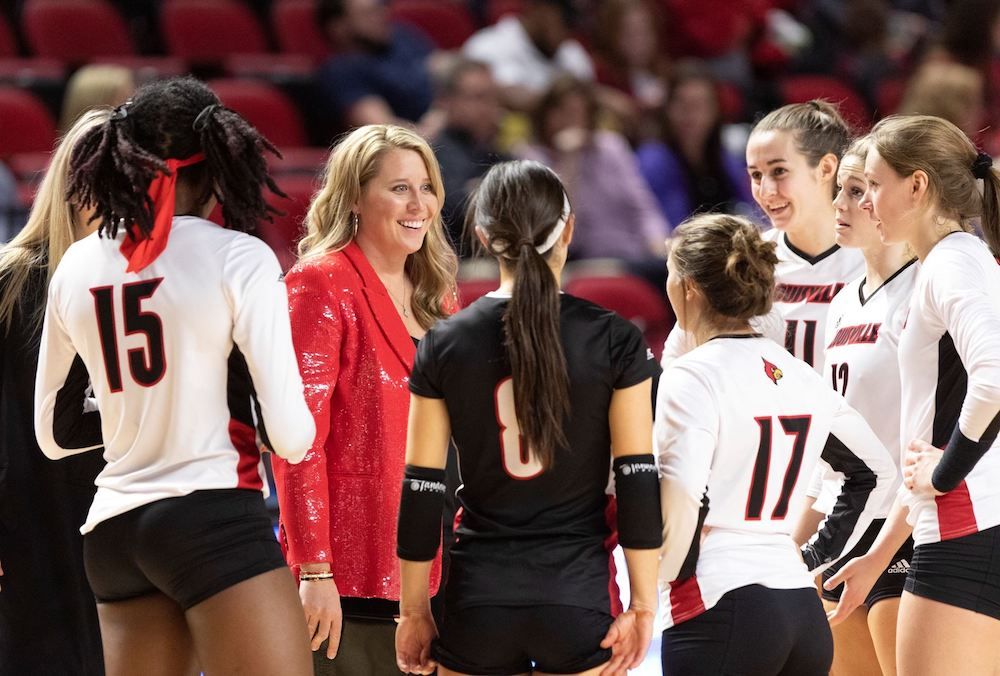 But other than that, you know, it's been really consistent and we just tweaked a bit here and there, but we prepare on the court very consistently.
And luckily I have two assistants that played at a pretty high level, so they can be 'other' players.
I think that really helps us a lot. And then we typically have a couple of red shirts that we watch film with of the players that they're going to be in practice.
So they kind of know how to look and act and what the strengths and weaknesses are.
I'll link an interview that you did with Terry Pettit at the end of this Masterclass...there you mentioned that the focus on your own team's strength is way more important than looking at how great the opponent is.
That is a universal sports cliché by now...but it became one because it's true.😄
Focusing on the other team, you just lose sight of your strengths.
And so one thing I learned from John Cook and I'll never change is when we talk about starting different rotations, it's like, no, we're going to make them beat us in our best rotations.
And so we're not going to start in a different rotation for a certain matchup.
And I've thought about that so many times. I mean, I've thought about it the other day. Like maybe we should work on that this year. So that we feel comfortable starting anywhere.
But I'm probably always going to start in what our best rotation is.😄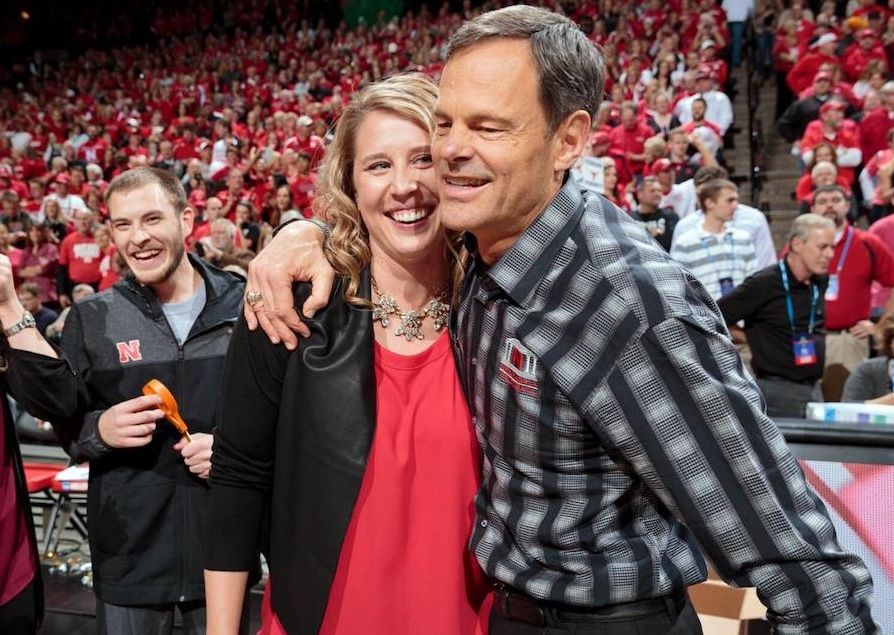 You talked earlier about your 6 seniors. You had a very reactive, dynamic and effective team on the court last season, how did you go about recruiting?
You can't really say like, I'm just going to go out and recruit these players and they will fill that void perfectly.
It's more about what can we do this year, how should we think about our game, what kind of style do we want to play and how do we create that team.
So for example, we know we're going to lose a lot of points from Anna Stevenson, one of our middles. We can't expect from a freshman middle to be able to score that much.
So is it running more back row? Is it being more creative with our back and not using a DS?
So we're thinking about all those things and working on them now to prepare us for next season.
How will the female college game further evolve in your opinion?
I definitely think it's going to be fast. I think teams are trying to go faster. You see international teams going fast, USA goes really fast.
So typically American teams start to train or do things like the national team.
I also do think a lot of coaches will lobby for less subs. So I feel like that could change.
But then there's also rules here in the States about title 9 and opportunity. Whether that's a volleyball thing or not, all of that could get voted down for reasons outside of our sport. So we'll see, I think that's always going to be up for debate.
I do think that you'll continue to just see 'bigger, faster, stronger' and probably eventually maybe have to raise the net.
They haven't changed anything for women's basketball, but it seems like for volleyball, they could raise the net a little bit and make it even more competitive with longer rallies, but who knows?
I could also see things staying the same because the NCAA just really does not like 'change'.
And if we look at it from a volleyball technical perspective, what could help our sport to progress there?
I think the double contact has been a problem in NCAA volleyball and they should get rid of it.
And I'm not for allowing double contacts, but I'm for not letting the refs make decisions where it's impossible for them to be consistent with.
So I think if we just gave them an easier rule to follow that that would change and it'd be more consistent, which would be huge.
Like I was talking about before, I don't know about the subs. I think that'd be great and it would help players develop.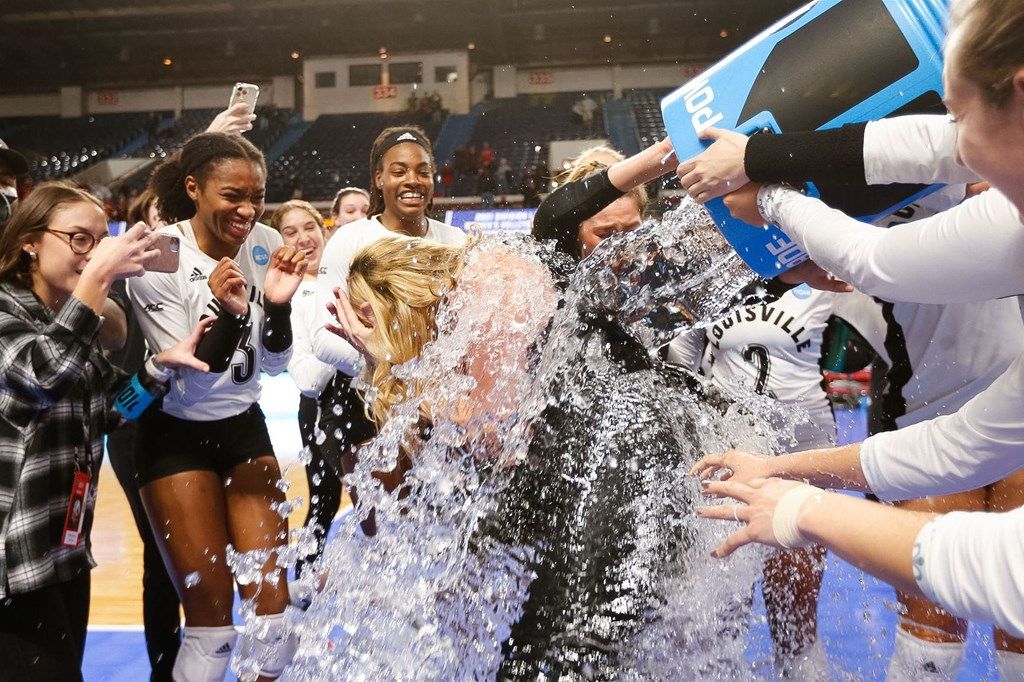 But we also like to use DS's, not that we will every year, but I think it gives a lot more people the opportunity to play and have a great experience.
So I go back and forth on that one, but the double contact for sure in my opinion, should go away.
If the ball's going in the direction of the hitter, you shouldn't really call doubles unless it falls between the setter's hands obviously, but the refs cannot stay consistent as it is.
And what I can't stand is when they call a non setter for a double, when the setter's doubling at the same time, it should be the same rule for everybody.
Another one that should be up for debate, and that we saw being used by the Texas middles for example, was throwing down the ball 'powertip' style (over the shoulder to position 1). Which at their height and with that angle becomes a ball that you basically can't defend once it passes the block.
I agree. I don't think it should be allowed. And I think it's like with the double contact. If you just say that it's not allowed, well we won't do it. But right now it's like, well, did your hand follow through or did it not?
And you can't challenge it and it's all over the place. So that'd be great if they just picked if it is allowed or it's not. And in that way everybody knows.
Cause we trained it because Pitt was really good at it. They had 1 player who would kill us and we got really good at it. And then in one match we got called for it like 3 times. And so we stopped doing it.
But you kept seeing it over and over throughout the season.
So that's the same thing. It's frustrating because you don't know what will happen during the match, it all depends on the ref, who you'll get.
Best game you've ever seen. What game did validate once more that volleyball is the greatest sport on the globe. For sure share your opinions about this matchup, what you took away from it.
That's a tough question. I started going to Nebraska games when I was really young, but I wasn't really analyzing the game. It was more like, I want to be a part of this program because of the fans and how powerful the athletes are.
I wanted to represent that program.
But a game that sticks out to me is a national championship game between Texas and Penn state. And I don't even know what year it was. I just know it was Destiny Hooker's senior year.
And I remember watching that game thinking how good it was. And it's the first time I felt like on TV, that college volleyball looked so good.
So that sticks out to me just cause I was watching it on TV thinking, man, this looks so impressive.
And I think volleyball, up until the last few years has kind of gotten a bad rep because it's not great to watch on TV and that's changing.
And I think that game really clicked for me. If games were like this we'd have big TV audiences.
And there were just some really impressive athletes in that game also, like Destiny Hooker, I'm sure Megan Hodge was on the team for Penn state.
It was just such a great match.
If you could have a gigantic billboard anywhere with anything on it — metaphorically speaking, getting a message out to every athlete on the globe — what would it say and why?
The first thing that comes to mind, this is with no prep on a really hard question is just: be authentic.
And we really preach that in our program. So that's what I would put on a billboard.
And you know, I think it's so easy to not be authentic nowadays with Instagram and social media, where you can really be whoever you want to be.
But I want our players to feel comfortable and feel safe being themselves, but at the same time being able to grow in the right ways.
How has a failure, or apparent failure, set you up for later success? Do you have a "favorite failure" of yours?
When I switched positions at Nebraska, after we lost in the national championship game in my junior year, well I knew that I would never set again, even though I had no conversation with my coach about that.
But I knew I had failed and I just knew that whether I liked it or not the team and him, he needed something different in that position.
And so I considered that a failure. And then I became a libero and I think that really projected my career into coaching and just made me have a lot better perspective.
So that would definitely be a very good failure for sure.
And another one intertwined with Nebraska is when I was at Tennessee, 2 assistants left in the same year, and I thought I would have a great chance to get one of those 2 jobs.
And I didn't and I ended up getting the job here at Louisville instead, and over here I probably learned more than I ever thought I would.
And obviously made great connections and now I'm the head coach here.
And so if I hadn't come to Louisville, I don't think I would be, before in Nebraska as an assistant, I don't think I'd be sitting here today.
I also don't think I would have been nearly as well prepared to be a great assistant coach and then to be a head coach.
Having had those experiences as a setter, learning from that situation and now being a head coach. How did that have an impact on you coaching your setters?
At Louisville, we have it broken up into positions. And so the setters are my primary position. And I think the way I was trained good and bad has really taught me even more about the relationship side between a coach and a setter.
And I take a lot of pride in that. And I think it definitely made me a great setter coach because of that.
Because I quote unquote failed at that position, the way I view it, as a player, but I think it has made me a great setters coach and even more so with the relationship piece of it.
I also don't train every setter the same because they're so different. And I don't think you can. So even if we have different setters in our program, they're not getting the exact same feedback because they're very different setters.
Making sure that they're comfortable and they understand 'why'. I think a lot of it is just telling them 'why', and that then they can trust you.
I don't think as a player I was always told 'why'. It was more like, you have to do this and this and this. I think if I would've known 'why' maybe I would have been better or done things a little differently.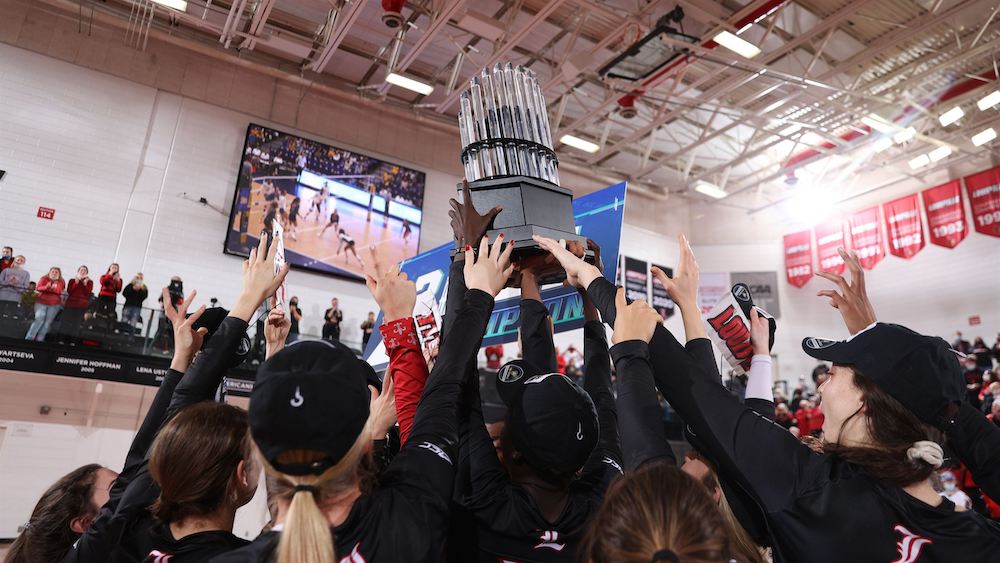 Do you have a book, a podcast or another resource that you like a lot? Maybe something that gets shared with the team?
I don't have a specific podcast I always listen to, but I really like Anson Dorrance. He's the soccer coach at North Carolina, the women's soccer coach. So I like listening to his stuff.
I kind of pick out coaches that I can relate to no matter what sport. I try not to be obsessed with volleyball coaches. I try to be more into what other coaches are doing in other sports.
We read a couple of football books when I was at Nebraska and I've referenced the Pete Carroll book('Win Forever: Live, Work and Play Like a Champion') quite a bit.
As far as our players go that's more on an individual basis, we don't have required reading. Our sports psychologist helps a lot of our players.
And so they'll be reading different things all the time, which I think is great because what one player likes the other player might not. So we don't have anything that we specifically reference.
But most of our players are reading something. So I think it's cool that at our level, we do have a resource that can personalize all that.
Because as coaches you probably don't have time to personalize that, but she can, and especially with the ones that do find value in that.
Did some light digging on 'Anson Dorrance', check this clip if you want to know what a 'lovable screamer' actually is.  😅
What is one of the most worthwhile investments you've ever made?
That's interesting.
And I think there's a lot, I would say, but I think working USA camps is one of them and it doesn't even involve the national team. Really.
It always takes a lot of time, it would be 10 days in the summer when recruiting's over. And it's like, do I really want to do this? I would always be on the fly. I would think to myself, why am I doing this? I need a break. 😄
But I always found value from it. And I still do.
Just the conversations you have with other coaches, I've had met some of my biggest mentors at those camps. So I feel like that is very undervalued.
And my assistants always have that same attitude. Like man, it's so long? I don't know if I can do that. And I'm like, you should though.
I've never walked away from a situation where I'm around coaches for that long, that I've thought that was not worth it.
That's the first thing volleyball related that popped in my head.
But I did just go on a trip with my husband for his work. And I think it put things to perspective too, supporting him and learning what he does. So that was something I need to do more of.
Just making sure it's just not about volleyball and me and the program. I learned about the relationships that he has and sales is also so relatable to athletics. Because you're always recruiting or you're recruiting boosters and donors.
It was just really good for me to take the time for it, even though I almost didn't go because we had just started practices here. I was like, I can't leave the team. And it was very last minute, but I decided I needed to do it anyways.
And I'm thankful that I did it just like the USA stuff. You're always like, oh, should I really be doing this? And then you come home and you realize that was one hundred percent worth it.
When you feel overwhelmed or unfocused, or have lost your focus temporarily, what do you do?
I'm pretty much an open book. So if I was feeling overwhelmed, I'd probably tell my assistant: 'I'm feeling overwhelmed and this is causing that. So we need to take that out of the equation.'
But I'm thinking more on a volleyball related aspect here and how it is during matches. And we can communicate really well as a staff. That takes the heat off.
But just in life, honestly, if I'm feeling overwhelmed, usually I just need to take some time off with my husband and just not think about what's overwhelming me and he's very, the way to put it lightly, he's good at leisure.😄
He's a very, very calm human being.
So usually just being around him is like, okay, I'll calm down a little bit just because that's his nature.
---
Thanks a lot for your time and the conversation, Dani.
Extra:
Down below you can find the interview that got mentioned above.
2. For our European readers that are new to female college volleyball, below you can find the 2021 National Championship semi final of Dani's Louisville team against Kelly Sheffield's Wisconsin squad.
---